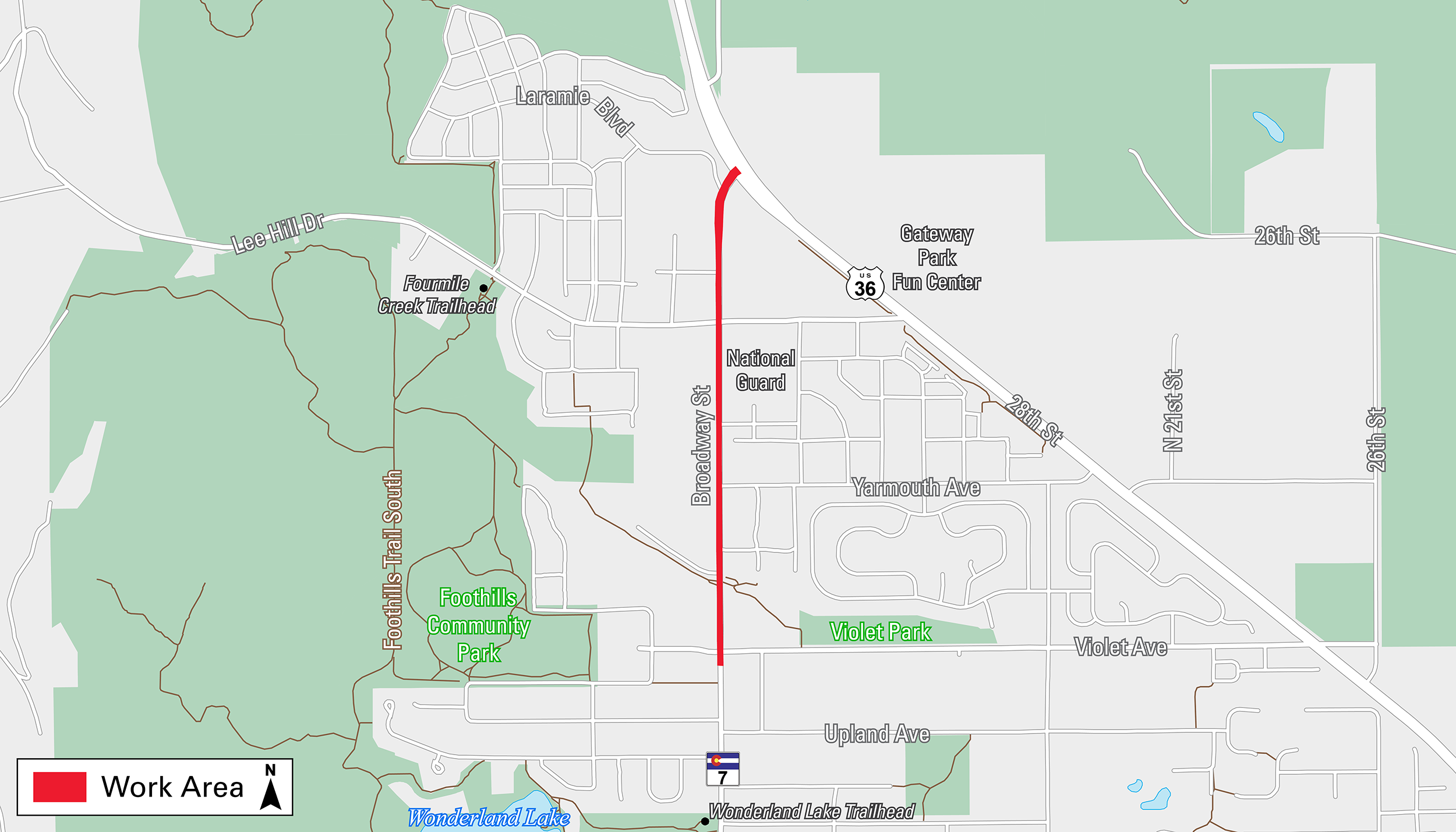 Updates
Construction for the N. Broadway 1% has been completed. Thank you for your patience as we completed this work.
Safety
This project is being constructed as part of our commitment to system revitalization, allowing us to continue to provide the safe, reliable electric service our customers expect.
Public safety is at the foundation of all we do. The safety of the public around Xcel Energy's electric system influences every decision we make. We take a proactive approach to public safety by implementing safety measures before, during and after construction.
Overview
The North Broadway 1% Project will convert approximately 1 mile of existing overhead distribution lines to new underground distribution lines. This project is taking place alongside the City of Boulder's North Broadway Reconstruction project which will provide long-term pavement maintenance, transportation improvements with enhanced safety and comfort for multimodal travel along Broadway.
The North Broadway 1% project will underground distribution lines beginning at a point just south of the intersection of North Broadway and Violet Avenue to the intersection of North Broadway and U.S. Highway 36. This project is a great example of the use of the City's available 1% funds provided by Xcel Energy. Each city's 1% Fund is determined by the total gross revenue, where the unexpended amount is added to the current year reserve and then becomes a rolling total of funds available for future undergrounding projects.
During construction, you may notice:
Marking of utility lines and "potholing" to verify their locations visually
Construction equipment and materials
Partial or complete road and sidewalk closures
Traffic control and detours
Changes to site access
Elevated noise during construction and testing.
We will work to reduce inconveniences during this work. Xcel Energy will work alongside the City of Boulder's construction resources in effort to minimize the disturbance and impact to the area, and restore work areas to preconstruction conditions.
What is Undergrounding?
Undergrounding is the process of taking overhead lines—be it transmission or distribution—and converting them to underground lines. This typically occurs within the public right of way or as a result of new development.
Aside from improving the area aesthetic, property values are maintained and noise is minimized.
Schedule
Construction began in May 2021 and was completed in October 2022.
Please note that project schedules are subject to change.

How do I request undergrounding at my home or business?
To convert your service from overhead to underground, you will need to submit an application to our Builders Call line. Once submitted you will be assigned a designer who will work with you on the scope and cost.
As a part of the underground process, you will need to ensure your electric panel can support the new service. Please work with your electrician on what this means for your site. You can also reference the Electric Standards of Installation Manual, to better understand the requirements.
Please note that if your service is commercial, you will need to work with your electrician to run the new underground line to our transformer as this now becomes a customer owned line.